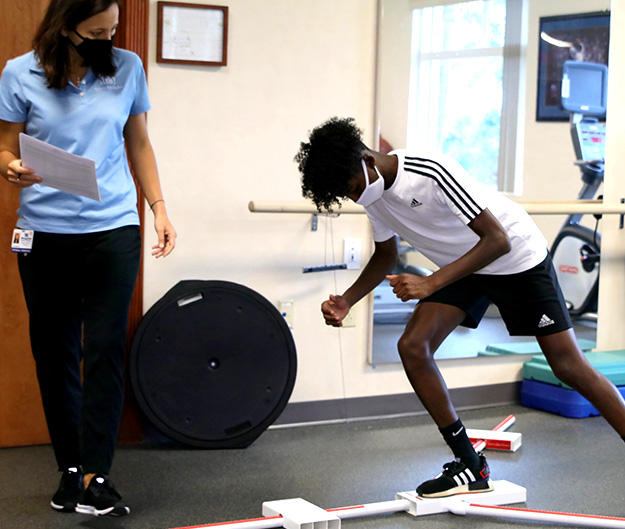 Sports Medicine
We are one of the region's only comprehensive pediatric sports medicine programs
Sports injuries don't need to put a damper on your child's athletic goals. Sports medicine doctors at Joe DiMaggio Children's Hospital deliver exceptional care that gets them back in the game. We provide the services and expertise your child needs to heal, whether they have a recent injury or recurring pain.

Our Pediatric Sports Medicine Services
We start with a comprehensive evaluation covering how the injury happened, your child's symptoms and their general health history. The assessment also includes a physical exam.
Joe DiMaggio Children's Hospital has exceptional imaging capabilities. We use pediatric-specific methods to learn more about the injury. Our experts review the results immediately and make an accurate diagnosis. For complex cases, we gather additional input from musculoskeletal radiologists.
Physical Therapy
Your child receives services from board-certified pediatric and adolescent physical therapists. They work closely with sports medicine doctors and orthopedic surgeons to tailor services to your child's needs. We offer sophisticated options, including the Graston technique to loosen stiff tissue, balance re-training for concussions and hand therapy.
Surgery for Sports Injuries
Pediatric orthopedic surgeons at Joe DiMaggio Children's Hospital deliver outstanding care and outcomes. Our commitment to excellence has earned our program top honors, including recognition from U.S. News & World Report. Care for complex cases may include repairing multiple injured knee ligaments and delicate hand and upper extremity issues.

[U18]: Recovering from Sport-Related Injuries
Sports Injuries We Treat
Conditions our sports medicine doctors treat include:
Fractures (broken bones), which can affect development if the break is near a growth plate
Labral tears, damage to the cartilage protecting the hip and shoulder joints
Knee issues, which may affect the cartilage or ligaments that secure the joint
Overuse injuries, like stress fractures, bursitis and tendonitis, that occur with repetitive motions
Shoulder instability, issues with tissue anchoring the shoulder bones that may cause the joint to pop out of place
Snapping hip syndrome, muscle and tendon tightness that causes a catching sensation with certain movements
Sprain, stretching or tearing of your child's tendon
[U18] Sports Medicine at Joe DiMaggio Children's Hospital: Why Choose Us?
Our experts care for athletes at the highest levels of their sport. We are team physicians for U.S. Figure Skating, USA Wrestling and Olympic athletes. Our pediatric orthopedic specialists provide the same exceptional care to active children and adolescents across South Florida. Meet our team.
Highlights of our program include:
Efficiency: With same-day and next-day appointments, your child won't have to wait long to start healing. Our sports medicine doctors see a high volume of pediatric injuries helping us quickly diagnose the issue. Many clinic locations have on-site imaging, including X-ray, MRI and ultrasound. These offerings help many patients receive a diagnosis and treatment recommendations in one visit.
Community partner: Our extended team includes certified athletic trainers who work with club teams and schools throughout the region. Trainers attend team practices, give injury prevention seminars and provide on-field injury care. They also ensure a safe transition back to play for athletes recovering from injuries.
Nonsurgical sports medicine treatments: As pediatric experts, our team has in-depth knowledge of the sports injuries children face and the best treatment methods. Many young athletes get better without surgery. We offer image-guided injections, concussion care, dance medicine services and physical therapy.
Coordination: Care for complex injuries is a team effort. Sports medicine doctors work alongside orthopedic surgeons, physical therapists and athletic trainers to carefully plan treatments. Our team includes experts in a variety of orthopedic specialties, enabling us to deliver advanced surgical therapies that are not widely available.