Pediatric Orthopedic Fellowship
Joe DiMaggio Children's Hospital is pleased to offer a one-year pediatric orthopedic fellowship. Successful applicants will receive exceptional training from one of South Florida's busiest and most trusted programs.
The Pediatric Orthopedic Fellowship at Joe DiMaggio Children's Hospital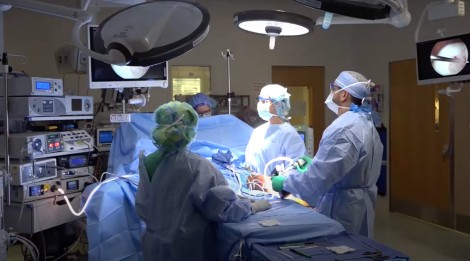 Our fellowship is accredited by the Pediatric Orthopedic Society of North America (POSNA). Fellows learn from renowned experts who practice at the top of their specialty areas. There are also numerous opportunities to participate in treating acute and medically complex cases.
We are the only Level I pediatric trauma center in South Broward County and regularly treat high acuity orthopedic trauma. These cases originate from some of the ER's 315,000 annual visits. The program is also home to attending surgeons and nonoperative providers in every orthopedic subspecialty. This breadth of experience gives fellows exposure to the highest level of pediatric orthopedic care.
Pediatric orthopedic fellowship faculty
Our faculty members form the region's largest pediatric orthopedic group, with experts representing every subspecialty. As a referral center, we regularly see rare and difficult-to-treat diagnoses. They perform a high volume of routine and advanced procedures. Learn more about our operative and nonoperative team's education and professional backgrounds.
Faculty members include:
Graduate Medical Education at Memorial Health System
Joe DiMaggio Children's Hospital is part of Memorial Health System — a leader in South Florida since 1953. Our commitment to our community includes providing the best available evidence-based care to babies, children and adolescents.
Pediatric faculty are advancing the field through pioneering new care methods and sharing our knowledge through publications and speaking engagements. See our selected publications.
We are also honored to take part in training emerging pediatric subspecialists through didactic study and graduate medical education programs. Read more about the didactic schedule.
Educational Requirements
Applicants will have completed medical school and an orthopedic residency prior to beginning fellowship. Pediatric fellows will participate in a robust training program that includes:
Didactic Lecture
Fellows will help deliver a didactic set of biweekly lectures along with program faculty. Medical students, physician assistant students and visiting residents may also attend.
Pediatric fellows will present eight lectures on topics such as:
Fractures of the elbow, wrist and hand
Toe walking, syndactyly, polydactyly, curly toe and growing pains
Cervical spine, torticollis and the significance of Down syndrome
Pediatric sports, ACL, PCL, meniscus and MCL
Case Conferences
Pediatric fellows will participate in multidisciplinary care conferences. We host a weekly pre- and post-operative indications conference where the team plans treatments and discusses outcomes for medically complex patients. Participants include attending surgeons, nonoperative providers and musculoskeletal and interventional radiology specialists.
Once a month, we also hold a morbidity and mortality conference. This forum helps advance our quality of care through thoughtful dialogue about medical errors, complications and unanticipated outcomes. It offers rich educational opportunities for successfully managing high-risk clinical scenarios.
Journal Club
Our journal club meets virtually every quarter to discuss interesting articles. This gathering lets us learn about emerging care methods and treatment approaches for unique cases.
We select entries from respected orthopedic periodicals, such as the Journal of Pediatric Orthopedics, Journal of Bone and Joint Surgery, Yellow Journal, Spine and other specialty publications.
Call Responsibilities
Pediatric fellows will take primary call (with attending backup) remotely once per week and one weekend per month. Emergent cases requiring surgery, consultation or reductions will require the fellow's active involvement.

Call includes all primary pages from:
Our children's hospital
Inpatients and consultations from any affiliated hospital or urgent care center
Unaffiliated hospitals that require assistance
Local pediatricians
Patients and their families
POSNA Information
Read a description of our pediatric orthopedic fellowship on the POSNA website.
For questions, please contact:
Natalia Eicker
Society Coordinator
Phone: 630-478-0483
Email: eicker@posna.org
www.posna.org
How to Apply
We work with SF Match Residency and Fellowship Matching Services to process applications and designate new fellows. Matching takes place in April, with fellowship training commencing the following August. For more information, read the SF Match orthopedic fellowship overview.
The application deadline is January 11 every year. Start the application process.
Send your completed application to:
SF Match
655 Beach Street
San Francisco, CA 94109
Phone: 415-447-0350
Fax: 415-561-8535
Email: help@sfmatch.org

Interviews occur between early January and mid-March on weekdays between 8:30 a.m. and 5 p.m. Pacific Time by arrangement. In-person meetings are preferred, although virtual interviews are available.
If you have any questions, you can reach out directly through email: