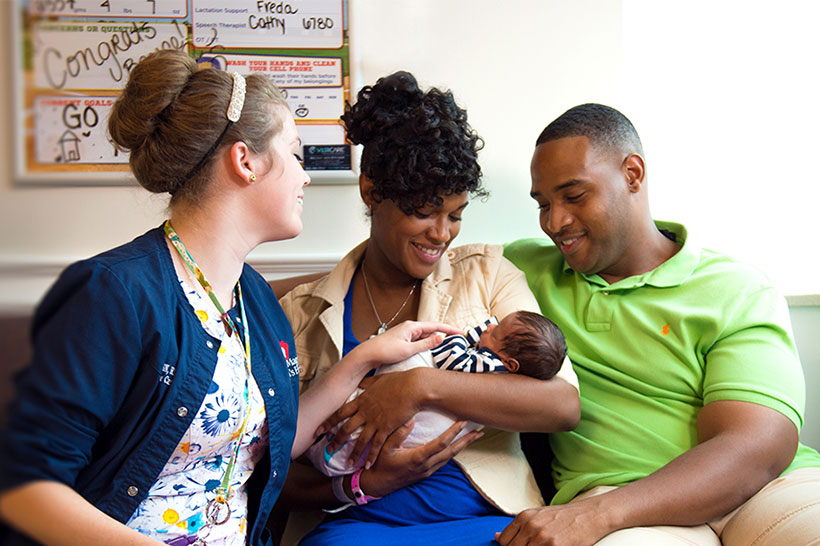 Patients and Families
We're by your family's side at every step. Let us know how we can help.
At Joe DiMaggio Children's Hospital, we believe in patient- and family-centered care. We support you through a wide range of services designed to meet your family's unique needs.
Whether you need help navigating billing, payments and insurance or accessing your child's medical records, our caring staff can help. For families visiting us from a distance, we offer convenient lodging at the Conine Clubhouse. International patients may also receive personalized assistance from our Global Health team.
When you choose Joe DiMaggio Children's Hospital, you can expect care from world-class physicians using state-of-the-art technology in a supportive, child-friendly environment.
At Joe DiMaggio Children's Hospital our goal is to ensure the safety and well-being of our patients, families, visitors and staff. We believe in Patient and Family Centered Care and our staff are empowered to partner and assist families to help ensure that your needs are met throughout your child's hospital stay. Given the flu season and the continuous threat of infection for COVID-19 in the community, our visitation policy will include monitoring respiratory trends within the community for guidance on visitation practices. Please see our current visitation policy.
For the safety of patients and healthcare personnel. Anyone with signs/symptoms of sore throat, fever, chills, cold, cough, nausea, vomiting, diarrhea, or other illness should not visit patients in the hospital. We understand these visitor restrictions may be frustrating and inconvenient. Please be assured they are not permanent and will be updated as soon as it's safe to do so.
Masks Are Now Optional
Patients and visitors may be requested to wear a mask if they have signs or symptoms of or a diagnosed infectious diseases that can be spread through coughing (droplet or airborne transmission), within a sterile area or during a sterile procedure, or visiting with a patient whose treating provider has diagnosed or confirmed a condition affecting immune system. Patients and visitors may opt out of these masking guidelines unless doing so would risk the safety or health of the patient, other patients, or staff of the facility, or cannot be reasonably accommodated by the facility or provider.

Tour of Joe DiMaggio Children's Hospital