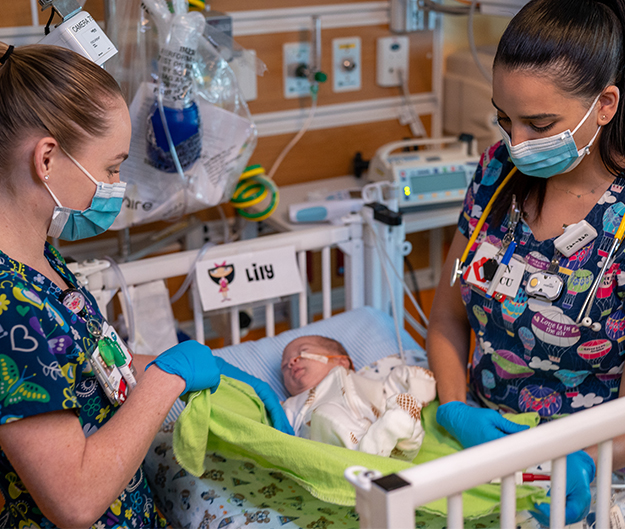 Neonatal Surgery
Our neonatal surgeons are here to help when your baby has a serious illness. We treat a wide range of conditions, including neonatal congenital anomalies.
Explore Our Pediatric Neonatal Surgery Services
When your baby has a serious illness, we're here to help. The neonatal surgeons at Joe DiMaggio Children's Hospital treat a wide range of health conditions, including neonatal congenital anomalies. We provide compassionate care for the youngest patients with a highly specialized team and advanced technology.
Why Choose Joe DiMaggio Children's Hospital for Neonatal Surgery?
Our neonatal surgeons are part of an integrated team of specialists at any of our Neonatal Intensive Care Unit (NICU) locations. We offer:
High level of care: Our NICU is a Regional Perinatal Intensive Care Center – one of only 11 in the state of Florida. We offer a highly specialized team and advanced technology to care for babies with special health needs, including rare anomalies.
Prenatal consultations: Families are offered the opportunity to meet with our surgeons before their babies are born if a condition is identified in utero or if a mother has a high-risk pregnancy. During our prenatal consultation, you'll learn what to expect when your baby arrives, and we'll discuss potential treatment options. We'll provide as much information as possible to help you prepare for the road ahead. When needed, we also recommend genetic counseling.
Comprehensive care: As a dedicated children's hospital, we offer a depth and breadth of services that's hard to match. We're here for your family, from prenatal care through your baby's first year of life and beyond.
Collaborative team: Many neonatal cases are complex, involving several health concerns. We care for children using a multidisciplinary approach, and our surgeons meet regularly to discuss each patient's needs and create effective treatment plans.
Minimally invasive methods: We can use minimally invasive methods for many surgeries. One of these techniques is laparoscopy, which involves using a small camera to see inside your child's body. With these methods, we use tiny incisions, generally resulting in an easier, faster recovery for your baby than with traditional surgery.
Constant communication: This time in your family's life can feel challenging and uncertain. We believe in helping your family take "baby steps" toward healing. Our team is committed to keeping you informed and engaged every step of the way.
Types of Neonatal Surgery
Some of the conditions we treat include:
Congenital Anomalies
Neonatal congenital anomalies are caused by problems during the baby's development before birth. Neonatal surgeons treat the following anomalies, working closely with specialists across the hospital to provide the most effective treatment:
It matters to you. It matters to us.
Joe DiMaggio Children's Hospital Quality and Safety
See our hospital's patient satisfaction numbers, number of patients and more.
View Quality and Safety
You have a Right to Know About Prices
We want to give you the information you need to make important healthcare decisions, including the costs of our services.
View Pricing