Benefits of Breastfeeding in the NICU
Our NICU team understands that breastfeeding while your baby is in the NICU can feel overwhelming and daunting. We are here to offer support because we know how important breast milk is for you and your newborn, such as:
Giving your baby the best nutrition possible since your breast milk continuously changes to meet the needs of your baby.
Providing vitamins, minerals, proteins, antibodies, essential fatty acids and many other critical building blocks for your baby's growth and development.
Reducing some of the risks of prematurity, such as bronchopulmonary dysplasia and necrotizing enterocolitis.
Lowering your risk of high blood pressure, type 2 diabetes, and ovarian and breast cancers.
Pumping Your Breast Milk
Our team of Internationally Board-Certified Lactation Consultants (IBCLC) and NICU lactation-trained nurses will help you get started with pumping your breast milk right away, either by hand-expression or breast pump. Breastfeeding begins with drops of colostrum – and every drop counts as nutrition for your baby.
We encourage you to pump at your baby's bedside whenever you have the opportunity; however, we know this is not always possible. We have a dedicated NICU pump room in the NICU waiting room for new moms who need extra privacy – ask your baby's nurse for assistance.
Our NICU lactation team recommends pumping eight to ten times in 24 hours to boost your milk supply. It can be tempting to not pump at night; however, the milk-making hormone prolactin is highest between 1 am – 5 am. Pumping at night will help you maintain a good milk supply for your baby.
Skin-to-Skin (Kangaroo) Care
Skin-to-skin care – also known as kangaroo care – is an essential part of your baby's care. Snuggling chest-to-chest with mom or dad helps your baby regulate their temperature, improve breathing and calms them. It also can increase your baby's weight gain and slow down their heart rate.
Most importantly, skin-to-skin care is a powerful and beautiful way to bond with your baby. It can also help to boost your breastmilk supply – our lactation team recommends pumping right after a skin-to-skin session. When your baby is ready to try skin-to-skin, your baby's nurse will be there to help you get situated and comfortable.
Donor Breastmilk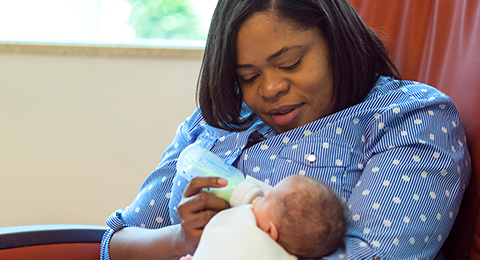 Mother's own milk is the first choice in feeding preterm infants and provides multiple benefits. When it is unavailable, donor human milk is recommended as the first alternative. All three Joe DiMaggio NICU locations utilize donor breastmilk for babies younger than 34 weeks gestation. Our milk bank utilizes Prolacta and provides our tiniest patients with 100% human milk products to meet their nutritional needs and promote development.
If you are interested in donating your breast milk and helping others please contact Prolacta directly.
NICU Breastfeeding Resources
In addition to our NICU lactation team support, Broward and Dade counties offer many community breastfeeding support services:
NICU Breastfeeding Support Meetings
The NICU offers a breastfeeding support group on the 2nd and 4th Wednesday of each month at 10:00 a.m. This inviting group is led by one of our IBCLCs and offers support, friendship and practical tips about the unique challenge of breastfeeding your NICU baby. New moms with babies in the NICU have the opportunity to join the support group via WebEx video. For more information or to RSVP, please call 954-265-7867.
The NICU lactation team can also provide the names and contact information of private practice International Board-Certified Lactation Consultants (IBCLC).
Breast Pumps in the NICU
If you plan to breastfeed your baby, our NICU lactation team will help you start using a breast pump. Most major insurances now cover the breast pump cost for new moms, so make sure to check with your insurance company first. Pumps are available to purchase online or in-person at the following locations:


Memorial Hospital Miramar Outpatient Pharmacy
Memorial Hospital West Outpatient Pharmacy
Pill Box Pines West
Pill Box Pharmacy & Medical Supply
Breastfeeding Meal Trays
Our NICU is committed to providing breastfeeding support to new moms. We offer complimentary breastfeeding trays during meal times, which can be ordered by calling dining services at 954-265-0140. Breastfeeding meal trays will be delivered to the NICU Family Waiting Area.
Lactation Support Once You're Home
Once your baby is discharged from the NICU, our lactation team is still here for you. If you have questions, concerns or need to set up a TeleHealth consultation, call our lactation team – we are here to help.
Wasie NICU at Joe DiMaggio Children's Hospital Lactation Department: 954-265-7867
Memorial Regional Hospital Lactation Department: 954-265-4078
Memorial Hospital West Lactation Department: 954-844-9908
Memorial Hospital Miramar Lactation Department: 954-538-5181
We have Spanish-speaking lactation consultants to meet the needs of our patients, as well as our NICU lactation brochure available in multiple languages:
New moms are invited to take our online breastfeeding classes at any point in your pregnancy or your baby's NICU stay.


It matters to you. It matters to us.
Joe DiMaggio Children's Hospital Quality and Safety
See our hospital's patient satisfaction numbers, number of patients and more.
View Quality and Safety
You have a Right to Know About Prices
We want to give you the information you need to make important healthcare decisions, including the costs of our services.
View Pricing