Javier Gonzalez, MD
Pediatric Cardiology, Pediatric Imaging Cardiology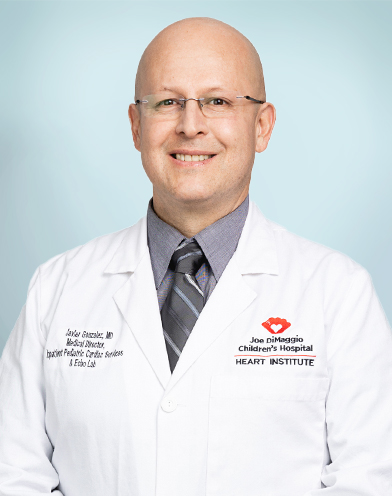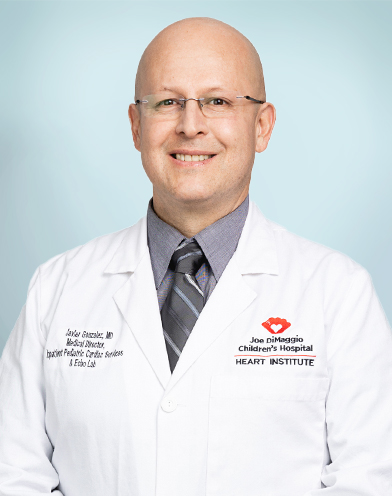 Memorial Division of Pediatric Cardiology
1150 North 35th Avenue Suite 490
Hollywood, FL 33021
954-265-3731
Total Heart Center
3501 Johnson Street Adult Congenital Heart Disease (ACHD)
Hollywood, FL 33021
954-276-0287
About Me
Medical Director, Inpatient Pediatric Cardiac Services & Pediatric Echocardiography Services
I am a pediatric cardiologist at Joe DiMaggio Children's Hospital. I diagnose and treat children and adults with congenital heart disease and children with acquired heart disease, creating personalized treatment plans that may involve surgeries and interventions.

I was the first pediatric congenital cardiologist to be certified to perform and interpret Cardiovascular Computed Tomography (CT) in the United States in 2009 and remain one of the very few with the certification and experience in virtual dissections by CT and 3D echocardiography in the country.

I knew that I wanted to become a doctor at a very young age, because I was fascinated with the human body. I find the heart to be an amazing and intricate organ and I like children, so pediatric cardiology was a great fit for me. I continued with cardiac imaging at a time when we were starting to discover the benefits of 3D echocardiography in cardiac interventions and were just starting to create 3D renderings of intracardiac anatomy by a computer.

In cardiac imaging, I was trained by the most recognized mentors in those fields: with Drs. Hlavaceck and Schoepf for CT and by Dr. Shirali in 3D echocardiography. For two years, I was also awarded a National Institute of Health grant to perform research in these fields before joining the Congenital Heart Institute of Florida, where I became the Director of Cardiovascular Imaging.

At Memorial, I love to provide the most precise diagnosis for my patients and find the least invasive procedure or solution to help them feel and function better. When needed, I also guide surgeons and interventionists as they perform cardiac procedures with the help of the most advanced cardiac imaging technique available. The most rewarding aspect is to then see your patient thriving and doing well and knowing you were part of that miracle.

I treat each patient of mine as if they were my child. As a father of four who has had my own children hospitalized in the Pediatric ICU for different reasons, I understand how worrisome it is to be the parent of a sick child. I have been in your position and promise to give you the time and attention your child needs. My loyalty is always towards my patient, and I promise to be the cardiac advocate for your child.

Before joining Memorial, I was Director of Hospitalization and Non-Invasive Cardiology at St. Joseph Children's Hospital in Tampa Bay, Florida.
Hospital Affiliations
Gender
Education
Education
Universidad Nacional De Colombia, 1998
Residency
University Of Puerto Rico, 2005, Pediatrics
Fellowships
Medical University of South Carolina, 2008, Pediatric Cardiology
Medical University of South Carolina, 2009, Pediatric Cardiology
University of California - Los Angeles, 2002
Certifications
American Board of Pediatrics-Pediatric Cardiology
Awards, Achievements, and More
Publications
Please view Dr. Javier H. Gonzalez's publications on PubMed.
Research
I have been involved in pediatric cardiology research and academic activities to further advance the cardiac and cardiac imaging fields.
Currently, I participate in the Nomenclature Working Group developing the International Pediatric and Congenital Cardiac Code, which is dedicated to teaching and standardizing cardiac terminology. We are creating an atlas that correlates pathological cardiac specimens with advanced cardiac imaging modalities (CT, MRI, 3D echocardiography, virtual dissection, etc.).
Presentations
Proctor for workshop in Three-Dimensional Echocardiography Fifteenth Charleston Symposium on Congenital Heart Disease, Charleston, SC, May 2007
Proctor for workshop in Three-Dimensional Echocardiography 11th Annual Update on Pediatric Cardiovascular Disease, Phoenix, AZ, Feb 2008
Proctor for workshop in Three-Dimensional Echocardiography Sixteenth Charleston Symposium on Congenital Heart Disease, Charleston, SC, Nov 2008
Echocardiography of Pulmonary atresia-intact ventricular septum (IVS) with Coronary fistulas/ sinusoids and Hypoplastic left heart syndrome (HLHS) with Coronary artery fistula(s) or sinusoid(s) 10th Annual Congenital Heart Disease Symposium, St. Petersburg, FL, Feb 7, 2010
New imaging tools in Hypoplastic Left Heart Syndrome 11th Annual Congenital Heart Disease Symposium, St. Petersburg, FL, Feb 2011
1D to 3D: echocardiography in Single Ventricle 11th Annual Congenital Heart Disease Symposium, St. Petersburg, FL, Feb 2011
Echocardiographic workshop, Transposition of the Great Arteries and Truncus arteriosus 12th Annual Congenital Heart Disease Symposium, St. Petersburg, FL, Feb 2012
Echocardiography in TAPVR, PAPVR, Cor Triatriatum World Society for Pediatric and Congenital Heart Surgery Sociedad Latina de Cardiología y Cirurgía Cardiovascular Pediátrica, Lima, Peru March 17-21, 2012
Echocardiography and Cardiac CT in Hypoplastic Left Heart Syndrome 1 st National Congenital Heart Disease Symposium, Cali, Colombia, May 2012
Echocardiography and Cardiac CT in Transposition of the Great Arteries 1st National Congenital Heart Disease Symposium, Cali, Colombia, May 2012
3D Echocardiography and Cardiac/Chest CT in Congenital Heart Disease Grand Rounds, Fundacion Cardio Infantil, Bogota, Colombia, June 2012
Echocardiography in Complete Atrioventricular Septal Defect 2nd National Congenital Heart Disease Symposium, Cali, Colombia, May 2013
Echocardiography in Tetralogy of Fallot 2nd National Congenital Heart Disease Symposium, Cali, Colombia, May 2013
Echocardiography and Cardiac CT in congenital anomalies of the coronary arteries. 14th Annual Congenital Heart Disease Symposium, St. Petersburg, FL, Feb 2015