Your Pediatric Nursing Career
You can build your entire pediatric nursing career at Joe DiMaggio Children's Hospital. We'll be there for you as you grow clinically and professionally as a nurse.
Developing Your Nursing Career
Your career advancement is as much a priority for us as it is for you. We'll support your choices, give you the tools you need to succeed and cheer you on. Investing in your career is a smart decision for you and our patients and families.

Joining the our team gives you an opportunity to grow in your professional role. Many nurses choose to get involved in various committees and activities that directly support the advancement of the professional practice of nursing. Find out more about professional development and education.
Develop your pediatric nursing career with a variety of opportunities:
Participate in continuing education: We regularly offer nursing seminars and classes.
Earn a specialty certification or go back to school: We reimburse nurses who earn specialty certifications and degrees.
Join a shared governance council or hospital-based committee: Nurses are the voice of shared governance and important voices on hospital-based interprofessional committees.
Take part in research: Nurses lead and implement research to enhance the evidence-based care we provide our patients.
Leadership in Every Role
At Joe DiMaggio Children's Hospital, you don't need a title to be a leader. All our nurses have a vital role in the decision-making process. They are empowered to propose and share ideas that impact the care we provide. Learn more about nursing leadership.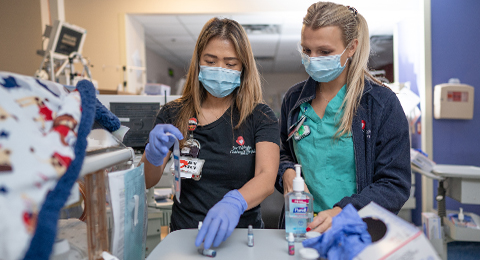 Support for New Nurses
Our Nurse Residency Program prepares new graduate nurses for the transition to clinical practice. New graduates progress through the 12-month program with their peers, get training and support and complete an evidence-based change project as part of our residency program.

If you're a new graduate, we'll help you make the seamless transition to clinical care. Our program includes:
Classes and simulations for new nurses
Monthly seminars on clinical topics, communication, critical thinking and more
Training at the unit and department level
Time for reflecting and sharing experiences and challenges each month
Evidence-based practice project
Graduation celebration
Support for Experienced Nurses New to Pediatrics
Our RN Fellowship Program prepares experienced nurses looking to transition to specialty pediatric areas. This 12-month program includes:
Simulation training
Seminars
Peer support
Professional development support
Work at Joe DiMaggio Children's Hospital
Join a team of nurses and other healthcare professionals dedicated to serving children and their families. Explore our nursing jobs.