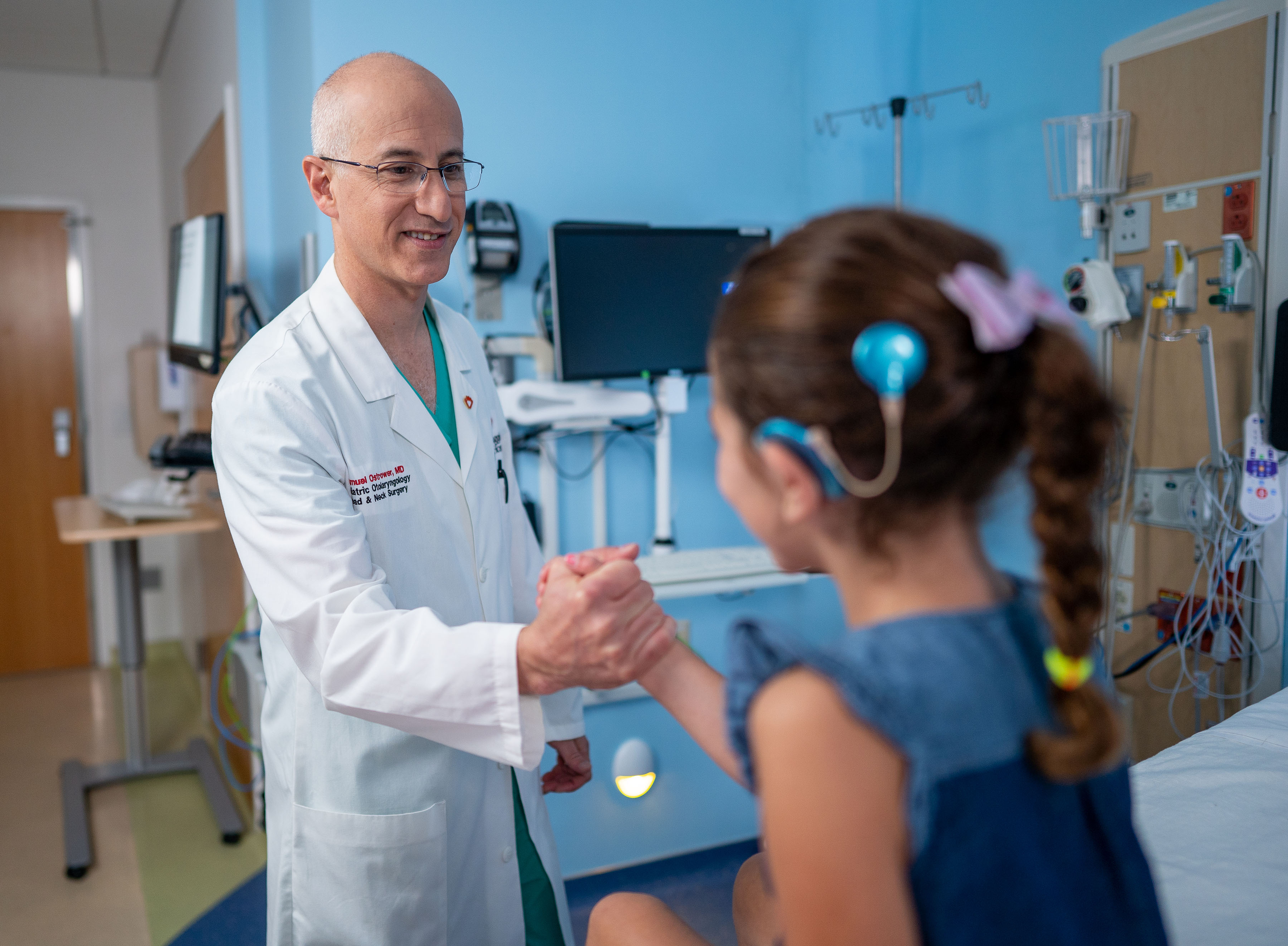 Cochlear Implants
Our Cochlear Implant Center can help children who have severe-to-profound hearing loss and who haven't responded well to other treatment options, like hearing aids.
Explore Our Cochlear Implant Services
The Cochlear Implant Center at Joe DiMaggio Children's Hospital helps children with severe to profound hearing loss who do not respond to traditional hearing aids. Our multidisciplinary team of compassionate professionals includes audiologists, neurotologist, pediatric otolaryngologists, speech pathologists, and a social worker who all work together to ensure your child has the maximum access to sound in order to facilitate optimal speech and language development.
The cochlear implant journey includes an extensive evaluation process and many visits before and after the surgery. Our team will be there for you and your child throughout the process – from your very first visit, to cochlear implant surgery, and through the years of audiologic follow up and speech-language therapy.

Nikki's Cochlear Implant Story
Our Evaluation Process
We want to make sure that your child is a good candidate for cochlear implant surgery so we thoroughly evaluate your child before scheduling the implant. Our evaluation process may include medical testing (like a CT scan or MRI) and discussions about family and social support.
The evaluation typically includes:
Pediatric Otolaryngology (ENT): This helps determine if your child is medically a candidate for a cochlear implant. We may suggest some medical tests, including genetic testing, an MRI or a CT scan.
Audiology: We will discuss your child's hearing history and evaluate hearing with and without hearing aids.
Speech and Language Pathology (Auditory-Verbal Therapy): Involves assessing your child's communication abilities and helps set goals for pre- and post-cochlear implant language development.
Social Work: This part of the evaluation helps us find additional ways that we can help your family during the cochlear implant process. We will connect you with our social worker who can provide ongoing support.
Who is a Candidate?
Cochlear implants are recommended for patients who receive little to no benefit from traditional hearing aids. The Food and Drug Administration (FDA) has approved the use of cochlear implants for children who meet the following criteria:
At least 12 months of age
Severe-to-profound hearing loss
Medically cleared or healthy enough to undergo surgery
Little to no benefit from traditional hearing aids appropriately fit and worn during all waking hours

Older children unable to understand at least 30% of words presented with listening only tasks

Family who can provide support and follow-up after surgery
Now she can hear. She sings and she can talk to us. It's amazing that she can hear and be heard.
Bianca, mom of cochlear implant patient

What Is A Cochlear Implant Surgery
It matters to you. It matters to us.
Joe DiMaggio Children's Hospital Quality and Safety
See our hospital's patient satisfaction numbers, number of patients and more.
View Quality and Safety
You have a Right to Know About Prices
We want to give you the information you need to make important healthcare decisions, including the costs of our services.
View Pricing