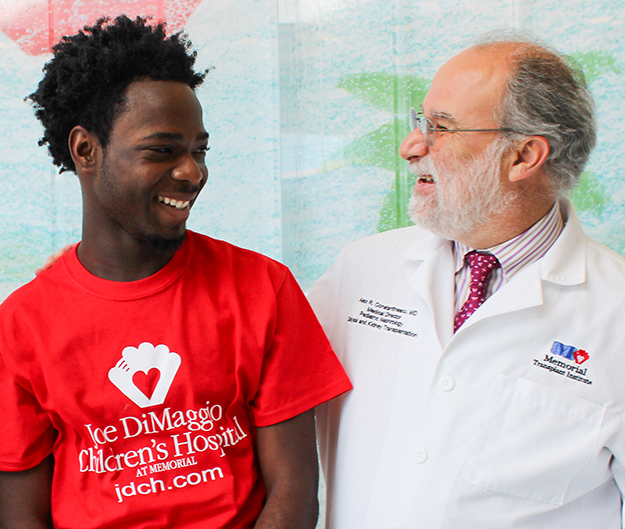 Pediatric Kidney Transplant
We are Broward County's only pediatric and adult provider of kidney transplants.
Memorial Transplant Institute is the only pediatric and adult provider for both heart and kidney transplants in the Broward County area. Our skilled team of pediatric specialists offers children highly specialized care while providing the resources families need to navigate the transplant process and beyond.

For a child with kidney failure, kidney transplantation offers the opportunity to live a fuller life, free from dialysis.
To make an appointment or learn more about our customized pediatric kidney transplant program, please call:
954-265-7450
What Is a Pediatric Kidney Transplant?
A kidney transplant replaces one of a child's failing kidneys with a new, healthy kidney. This healthy kidney could come from a living kidney donor or a deceased donor.
Living donor kidney transplant: Because most people can live long, healthy lives with only one kidney, a living donor such as a family member or friend may choose to donate a kidney to a child in need. An organ from a living kidney donor often lasts longer and works better compared to a kidney from a deceased donor. Our specialists help families consider all available living kidney donation possibilities. Learn more about the benefits of living kidney donation.
Deceased donor kidney transplant: All children in need of a kidney transplant go on a national waiting list managed by the United Network for Organ Sharing (UNOS). This list prioritizes based on the severity of their condition.
After receiving a kidney transplant, people need to take special care of themselves for the rest of their lives. This care includes taking anti-rejection medications every day and getting regular lab testing and follow-up care to monitor overall health.

Kidney transplantation allows children the chance to live a fuller and more active life, free from the constraints of dialysis.

Glenn's Kidney Transplant Story
Pediatric Kidney Transplantation at Memorial Transplant Institute: Why Choose Us?
Based at Joe DiMaggio Children's Hospital in Hollywood, Florida, our pediatric transplant team provides outstanding care that's tailored to every child and family.
We offer:
Transplant expertise: Our surgical and medical teams have a combined 30 years of experience performing kidney transplant surgeries. Our specialists have a breadth of knowledge that comes from developing, building and maintaining successful transplant programs — and we were the first in Broward County to offer specialized heart and kidney transplants to both children and adults.
Team approach: Our pediatric kidney transplant care team includes dietitians, social workers and pharmacists as well as child life specialists who address the emotional needs of children. This diverse team works together to address every aspect of your child's transplant care. Meet our kidney transplant team.
Exceptional care, close to home: We offer the people of Broward County and beyond high-quality, personalized kidney transplant care — without the hassle of extensive travel. While the organ transplantation process can seem overwhelming, our compassionate and skilled team guides you every step of the way, from the initial evaluation process to lifelong follow-up care. Learn more about the kidney transplant process.
Care for your entire life: We develop lifelong relationships with our patients, and we treat you like family. Because our team cares for both children and adults, we're able to spend significant time helping patients transition from pediatric to adult specialists.
Convenience: There's no need to navigate different locations or buildings. When you choose Memorial Transplant Institute, you get all of your transplant care in one convenient location and see multiple specialists in one visit.
Pediatric services: Pediatric dialysis social workers and child life specialists use play, pets and music to connect with children and help minimize the psychological impact of a serious medical condition or hospital stay. A teacher from Broward County Public Schools is available to help children work through extended school absences. Young patients also benefit from our playground as well as kid-friendly meals upon request.
To make an appointment or learn more about our customized pediatric kidney transplant program, please call:
954-265-7450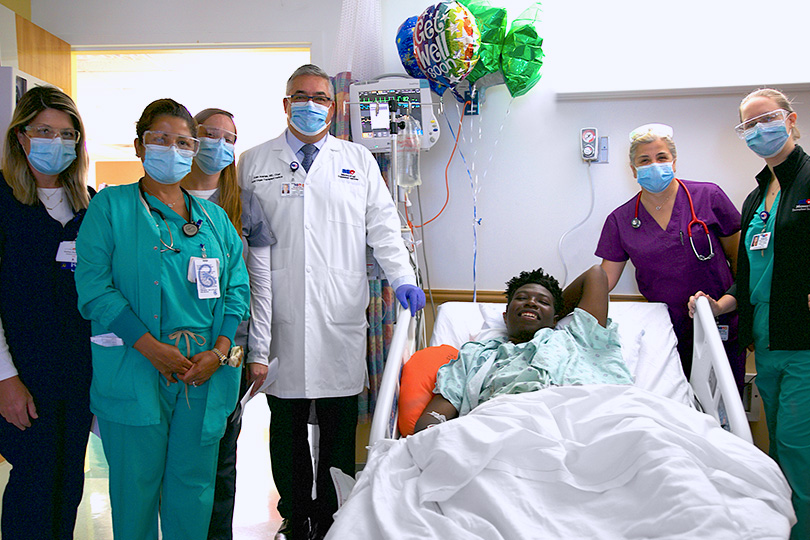 100 Kidney Transplants
Freddy, a 17-year-old Joe DiMaggio Children's Hospital patient, received the 100th kidney transplant performed by Memorial Transplant Institute.
It matters to you. It matters to us.
Joe DiMaggio Children's Hospital Quality and Safety
See our hospital's patient satisfaction numbers, number of patients and more.
View Quality and Safety
You have a Right to Know About Prices
We want to give you the information you need to make important healthcare decisions, including the costs of our services.
View Pricing