Julie Kang, DO
Obstetrics and Gynecology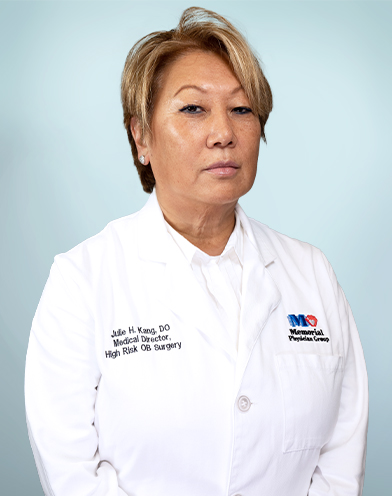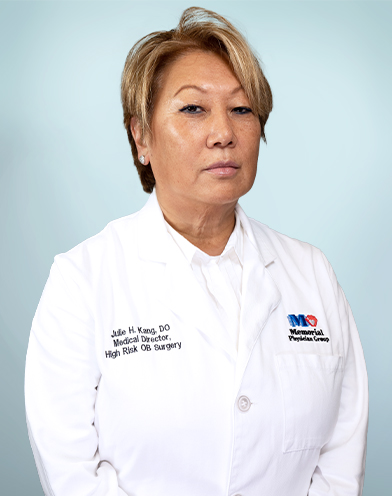 Memorial Division of High Risk Obstetrics
3501 Johnson Street 2nd Floor
Hollywood, FL 33021
954-368-0195
Memorial Division of High Risk Obstetrics
4105 Pembroke Road
Hollywood, FL 33021
954-985-2294
Memorial Division of High Risk Obstetrics
1150 North 35th Avenue Suite 245
Hollywood, FL 33021
954-276-2745
About Me
Medical Director, High Risk Obstetrics Surgery
I am a high-risk obstetrician and gynecologist at Memorial Healthcare System. I care for women with high-risk pregnancies, especially those with placenta accreta, a serious pregnancy condition in which the placenta grows into the uterine wall and requires more complicated surgery. We also provide care for women with pregnancy complications due to obesity, fibroids, chronic medical conditions and more.
Early in my training to become an OB/GYN, I found myself drawn to surgery and more complex and challenging cases. About five years ago, as the cases of placenta accreta began to climb, I knew I wanted to do something to help these women and prevent more deaths.
In 2016, my team and I created the Placenta Accreta Center to provide more specialized care for women in Broward and Palm Beach counties and beyond. We receive referrals from other doctors from Broward to Orlando and provide experienced, tailored surgical care for women to help deliver healthy babies and ensure the health of mom.
Often when I meet my patients for the first time, they are nervous, anxious and overwhelmed after learning that their pregnancy is complicated. They need thoughtful care and planning, as well as someone who is willing to answer all of their questions and help them rise to the challenge at the end of their pregnancy. My goal is always to be honest and compassionate, and help them through these challenging months until they are ready to deliver.
I also enjoy teaching others about these surgical procedures, which are not yet offered at every hospital, and participate in research to enhance these surgical interventions.
In addition to providing care for women in Florida, I also travel every year to Africa – particularly Ghana – to offer my surgical services. I work alongside doctors at the Baptist Medical Centre in Nalerigu, Ghana, and perform surgeries to repair vesico-vaginal fistulas and other procedures. Throughout my career, I have also volunteered in Rwanda, the Democratic Republic of Congo, Haiti and the Dominican Republic.
Hospital Affiliations
Gender
Languages
Education
Education
Nova Southeastern University, 1987
Internships
University of Miami/Jackson Memorial Hospital, 1993, Obstetrics and Gynecology
Residency
Louisiana State University School Of Medicine, 1992, Obstetrics and Gynecology
Nova Southeastern University, 1989, Family Medicine
Fellowships
Certifications
American Osteopathic Board of Obstetrics and Gynecology-Obstetrics and Gynecology
Awards, Achievements, and More
Presentations
"Critical Obstetric Care." Critical Care Annual Seminar, Hollywood Intensive Department Annual Seminar, Hollywood, Florida, 2015
"Previous Ectopic Pregnancy as Predictor of Methotrexate Failure." ACOG, Los Angeles, California, 2002
"Is Laparoscopy Safer in the Management of Dermoid Cysts in a Residency Training Program?" ACOG, Los Angeles, California, 2002
"Is the Conservative Management of Adnexal Torsion Prudent Pathology?" ACOG, Los Angeles, California, 2002
"The Efficacy of 600 microgram Misoprostol Regimen for the Evacuation of Missed Aboration." ACOG, Chicago, Illinois, 2001
"CANES Project (Center for Academia New Ideas Education and Surgery)." International Center for Comprehensive Women's Health Care, grand round, University of Miami, Coral Gables, 2000, 2001, 2002
"New Concept of Urinary Fistulas." University of Miami, Ob/Gyn Review, Miami Beach, Florida, 2001
"Use of Pessaries and Other Intra-Vaginal Devices." Update in Pelvic Surgery and Gynecologic Urology, University of Miami, 1996
"Urinary Tract Fistulas: Evaluation and Treatment." Update in Pelvic Surgery and Gynecologic Urology, University of Miami, 1996