Ariel Brautbar, MD
Pediatric Genetics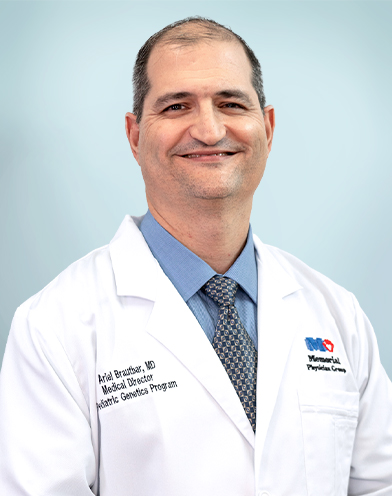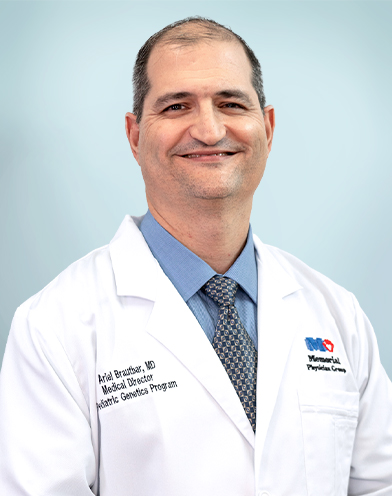 Memorial Division of Pediatric Genetics
1131 N 35th Avenue 2nd Floor
Hollywood, FL 33021
954-276-0166
Memorial Division of Pediatric Genetics
1971 SW 172nd Avenue Suite 500
Miramar, FL 33029-5592
954-276-0166
About Me
Medical Director, Pediatric Genetics Program
I am a genetics specialist at Memorial Healthcare System. I care for patients with genetic disorders and use advanced genetic testing to find the cause and treatment. I work with patients with genetic syndromes, neurological disorders with a genetic cause, and have a special interest in the diagnosis and treatment of patients with complex genetic disorders.
I was drawn to genetics and genomics because I recognized that our genes hold the answers that many patients and families facing undiagnosed conditions are looking for. As the tests and tools become more complex, they require more expertise to interpret but also cover many conditions we previously could not diagnose.
Each day, I look forward to doing my best for my patients and their families. I listen carefully to what they tell me and use all my experience and the most current genetic testing out there to obtain a diagnosis and possibly treatment. Armed with this critical information and support, I help them to move forward.
I am also certified by the National Lipid Association in clinical lipidology and am interested in applying genomics to enhance treatments via pharmacogenetics, which is the understanding of how our genes influence the way our bodies respond to drug therapies.
In addition to working with patients and their families, I publish many articles on genetics and am involved with clinical research on pharmacogenetics.
Hospital Affiliations
Gender
Education
Education
The Hebrew University-Hadassah Medical School., 2000
Internships
Hadassah hospital, 1999
Residency
shaarey zedek medical center, 2006, Internal Medicine
Fellowships
Baylor college of Medicine, 2008, Medical Genetics
Certifications

American Board of Medical Genetics and Genomics-Clinical Genetics and Genomics
Awards, Achievements, and More
Awards
Endowed Chair, Cook Children's Health Care System: Implementation of personalized and genomic medicine, as well as pharmacogenetics capabilities, 2018
Oral abstract chosen as Best of American Heart Association Sessions, 2008
Society for Inherited Metabolic Disorders of North America Travel Award for Exceptional Research Abstract, 2007
Dean's List, 4th year of Medical School, Hebrew University-Hadassah Medical School, 1997