Around The System February
Who Will Bring It Home For Tour De Broward?
The competition between teams at Memorial to raise the most funds for Tour De Broward is underway, with teams already pledging thousands of dollars. The event is scheduled for February 24, 2019 at Miramar Regional Park for the 10th Annual Tour de Broward benefiting Joe DiMaggio Children's Hospital.
This year's events include a 100K and 50K cycling tour, a 5K timed run, a 3K family walk, and a Power of Play Kids Zone. It is a great event to spend time with the family!
Registration is available by visiting the events main page.
Memorial Regional Hospital South Greets Mesa
Memorial South welcomed Mesa, its new therapy dog who will be working with patients at the facility. The hospital held a welcoming party attended by all other therapy dogs across the system.
Assistance Available For Employees & Families Affected By Government Shutdown
An estimated 800,000 federal employees were either furloughed or working without pay for over a month, in what is said to be the longest government shutdown in U.S. history. We know that it is difficult to pay your bills, let alone put food on the table, when you are without pay. We also know that a number of our employees are directly affected by the shutdown. Know that you are not alone – your Memorial family is here for you.
We've partnered with Mobile Food Pantry and other community resources to assist our employees and their family members affected by the government shutdown. If your family is experiencing difficulty due to the shutdown:

Please contact the HR Service Center at 954-265-5903 or HRServiceCenter@mhs.net.

· We will help you register for an event on February 4.

· You and your affected family member will attend the event together. (Please bring your employee ID and have your family member bring their government employee ID.)

· We will provide you with resources for navigating through this difficult time.

Please contact your local HR team if you have additional questions.

Thank you,

Margie Vargas, Senior Vice President and Chief Human Resources Officer
Memorial Healthcare System
Susan Piligan, RN Prevents Medical Error
Susan Piligan, RN, was awarded with the Patient First Award at Memorial Regional Hospital following her quick actions at 5 North. Susan went to 5 North to pick up a patient who needed to be transferred to ICU. As Susan entered the patient's room, the 5 North nurse was administering medications, including 10 units of regular insulin IV.
Susan noticed that the entire vial of insulin was drawn up in a 12cc syringe. Susan questioned the 5 north RN about what medication was in the 12cc syringe, that she was about to administer; and the nurse replied, "insulin". Susan immediately stopped the line and informed the nurse that the insulin was drawn up in the wrong syringe. Susan's actions prevented a medication error that could have caused a serious hypoglycemic reaction for this patient. The 5 North nurse was re-educated about insulin administration safety.
Patient: Outstanding NICU Experience At Memorial Hospital Miramar
I am writing to thank you for an outstanding NICU experience. Our son, William, was treated for pneumonia in the NICU from 12/18 - 12/25. I have delivered four children in four different hospitals and I can say without hesitation that our experience at Memorial Hospital Miramar was far and away the very best. The nurses and respiratory therapists were attentive, knowledgeable and reassuring. I wish I could name each and every person that attended to Adam because they each were phenomenal. I am so grateful for the wonderful care that Adam received and the peace of mind it gave me, a concerned mother. Thank you for your incredible service.
Rick Gach Receives Merit Award
Rick Gach, DPT received the Merit Award from the Cardiopulmonary Section of the American Physical Therapy Association for his advocacy in the reformation of post-surgical care of patients with sternotomy. Rick's commitment to quality, patient focus, and open sharing of best practice has helped elevate care for patients around the world. Congratulations Rick!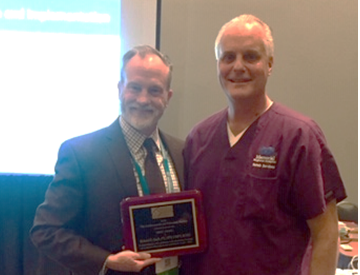 Memorial Hospital Miramar Says Goodbye To DJ (ED Unit Secretary) and Compass, MHM's Therapy Dog
Nursing Activities Committee Symposium
The Nursing Activities Committee members representing Memorial Regional Hospital, hosted their first Nursing Activities Committee Symposium on Tuesday, January 29, 2019. The theme was Nurses Caring for Themselves. The symposium was a SUCCESS, with close to 100 bedside nurses in attendanc
The topics highlighted were:
Healing touch
Incivility
Compassion fatigue and taking care of yourself
Mindful self-compassion
3 South At Memorial Hospital Pembroke: Showing Caring Non-verbally:
"We had a rescue alert on 5 south. All who responded were so helpful, the patient was treated and sent to ICU in under 15 minutes. Just wanted to let you know Genesis Fernandez from 3 south responded to assist Glory Philipose, Clinical Manager from ICU as she knew there were some challenges in ICU. I appreciated all who responded Respiratory, Andrea, Dr. Kelegamma, Glory, Genesis and the staff on 5 south". (Maureen Middleton, Clinical Manager from 5 South)



Tour De Broward 2017 - A Thank You From Joe DiMaggio Children's Hospital
Meet Mesa: New Therapy Dog at Memorial Regional Hospital South